I waited a year before writing this – hoping time would heal the heartbreak of that day, but it really never did.  I still feel sadness when I think about the events of 10/16/11. 
Who would have imagined that I would get to meet and watch a friendship grow between my sister and an Indy Driver? —  let alone one as amazing as Dan Wheldon.  But one never knows what this life will bring – and what could/might/and occasionally does happen.
In NJ for my 40th High School Reunion, my sister "recruited" me to go with her on the trip she had just been notified she won from the $5 million GoDaddy Challenge Sweepstakes –a trip to the IZOD IndyCar Series World Championship Race with a chance to win 2.5 million dollars.  I was thrilled for her to have this opportunity.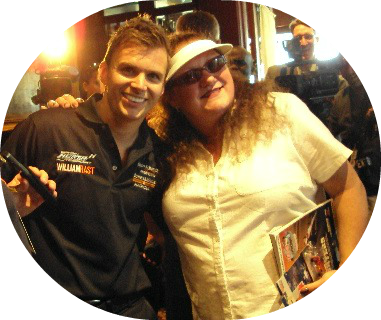 As the winner of the sweepstakes,  it put her in front of the camera and in the spotlight with Dan Wheldon for that last race of the IndyCar season in Las Vegas, Nevada last October 16th.  She was the only one who would share in the 5 million purse with Dan,  if he could come from the back of the field and actually take home the trophy that day.  She did a wonderful job for IZod, IndyCar and GoDaddy PR wise, she talked with ease on camera, on the radio and talked about the sponsors every chance she could (and to anyone who would listen).  She was herself, in her element, and I enjoyed watching her so at ease with all of that.   But, I especially enjoyed watching her and Dan joke about who could spend it faster and what they would each buy with their winnings. 
Dan and my sister had some sort of connection.  I am not sure what it was, but I believe they each had personalities that melded.  I loved watching them together. I know my sister much better than I ever was able to get to know Dan, but they each showed me that they like to joke around, had big hearts and a love for all people. They really did connect.  I don't know if it was Dan or my sister who said …. "We are now friends for life."  And as it turned out they truly were friends for life.
It's bittersweet that we got to meet Dan Wheldon in the very last week of his life.  He seemed like a genuine, wonderful, and warm person.  It was especially emotional to be right there in the back of his pit, my sister listening to Dan and the last words between him and his pit crew that day.  I wish the outcome was different.   And… I sometimes do wonder why ~ why she was chosen out of all the entries, why Dan had to die, and why we were the ones "lucky" enough to share some of his last days and to witness the track accident that took his life.
~~~~~~~~~~~~~~~~~~~~~~~~~~~~~~~~~~~~~~~~~~~~~~~~~~~~~~~~~~~~~~~~~~~~~~~~~~~~~~~~~~~~~~~~~~~~~~~~~~~~~~~~~~~~~~~~~~~ 
Leading up to the race, our week in Las Vegas was fraught with oversights and blunders by Izod, IndyCar, Go Daddy, or whomever was responsible for the trip they awarded my sister.  They gave us false information, and actually told us to go places where we would wait and wait and no one would call or show up.  My sister who has trouble walking, was forced to walk and walk–from the wrong bus locations to the wrong pace car ride location.  It was miserable to be constantly lied to…. and I blame IndyCar 100% for that.  Each time an event was happening they'd give us false information.   They wouldn't give us our passes in advance (I asked), and they wouldn't even tell us the correct schedule of things.  Why were they so rude and difficult?   Why were they constantly lying to us? I will never truly know. Could it have been that they wanted to have our tickets, and other items to give to their friends who had accompanied them on this trip to Las Vegas, and not to us?   In fact, based on the value my sister got on her 1099 – I would venture to guess they may have spent money on "other things" and charged it to her trip.   
In fact,  I got the feeling they were laughing every day at us with the stunts they pulled.  And instead of having a wonderful time in Las Vegas, I felt like we were the butt of their jokes… "Hey, you know what I did to those "winners" today?   "I told them where the bus was, but they won't be able to get on, because I didn't pay for it, or tell them it had to be paid for in advance….. ha ha ha."   Some of the things I would even consider cruel — like telling us to go into the food trailer for breakfast, after breakfast was over and all that was left was a few slices of bread and some peanut butter.   Ha ha ha… really funny.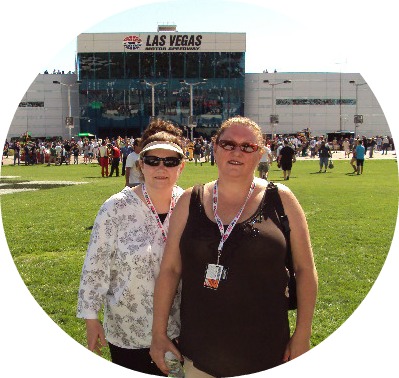 They asked to have my sisters' tablet back on race day and returned it broken …. and then gave her a hard time about helping her get if fixed.  They told us Dan died in a matter of fact way while they were whisking us out of the track in a golf cart.  We didn't even get to stay to see the tribute laps.  The events of the week cumulated in making us heart broken over the loss of Dan Wheldon.  It was an emotional time as we kept wondering why we were chosen to be there, experience that miserable week at the hands of the sponsors and then to have it end this particular way.  The sponsors representatives didn't talk to us, or even return any of our phone calls when we tried to find out about the remaining events of our week.   The only call we got was from the IndyCar PR person wanting my sister to do a "closing" interview.  She didn't do it.  I was happy she didn't.  Because, as we struggled with deep sadness in our hearts over Dan and his family – all they cared about was a closing interview.
  *This article contains my feelings, opinions and observations on the events that transpired during the week we were in Las Vegas for the 2011 Izod IndyCar race.  They are 100% mine, and told from my perspective.